FOR THE BEST IN COMPUTER SERVICE AND SUPPLY 10/10 PLUS A FREE TEN MINUTE HELP FOLLOW UP
Recommendation by Dave Allen on Facebook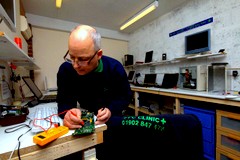 Here at your local service centre we fix all of these and more.
Just call us on 01902 847 478.
Laptops

All makes repaired and serviced. We also fix Macbooks too!

Desktops

Keep your desktop in tip top condition with a full service and or upgrade. All manufacturers and all problems fixed quickly and effectively. AppleMac and iMac fixed at great rates from a local service provider!

Notebooks

Notebook in need of some TLC, let us take care of that for you and give it back running like new.

Tablets

iPad, Galaxy, Nexus7, Kindle broken screens faulty connections and poor connectivity whatever the issue we have the skills to solve it.

Mobiles

iPhone, Samsung Galaxy and many other phones can have screens repairs and parts replaced at very effective cost and in many cases on the same day!

Games Consoles

We can even help you with your broken xbox or play station.
Contact Us Now
Read what others say about us:
Read what others say about us:
To find out if we could help you or to get a free quote:
To find out if we could help you or to get a free quote:
FOR THE BEST IN COMPUTER SERVICE AND SUPPLY 10/10 PLUS A FREE TEN MINUTE HELP FOLLOW UP
Recommendation by Dave Allen on Facebook