Avoid high repair bills with the reassurance of our computer repair and maintenance...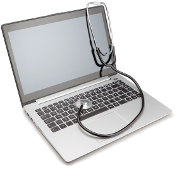 A computer failure is bad enough without having to worry about expensive repair costs.
With our computer care packages we can help you avoid those unexpected bills from just £8.00 per month. This includes an annual service to help keep your system clean and running smoothly.
You don't have to be a PC Clinic customer to benefit from this service. Why wait for your computer to fail and find yourself settling an unpleasant bill. Let our computer care package take care of it and avoid the bill.
We have plans to suit your budget!
Computer Care & Computer Care +
Our plans are flexible so you can buy the right package for you. Based on your needs and your budget we can deliver the right level of support for you.
Choose the right plan for you:
| | Computer Care | Computer Care+ |
| --- | --- | --- |
| Repair and maintenance of your computer | | |
| Annual Service | | |
| Out of hours support | | |
| 2 x virus removals & system cleans per year | | |
| 25% off parts | | |
| | £8 per month | £10 per month |
** data backup services are available at extra cost
What will our pacakges do for you?
Peace of mind
Repair and maintenance of your computer
Unlimited tech support
Experienced technicians to diagnose and repair your system
All brands of computer covered
Annual service to keep your computer in tip top condition
Remote support so you don't even have to bring your system in
Out of hours cover available
(requires prior agreement)
Local and convenient so that you know who's working on your computer
We can schedule fix times to suit your day
We look after most things you'd reasonably expect, with a few exceptions including existing faults, accidental or malicious damage.
Prices for next year will be determined by the volume of calls made this year.
90% of repairs completed within 48 hours and over 50% same day, when called before 10.00am.
Business Customers please talk to us about our Commercial Rates.
What do I do now?
Complete the form below and we will discuss your requirements with you.
"I too would like to recommend Pete PC. His service has always been quick, professional and done to a VERY competitive price. The work I have had done has been completed to a high standard too, and to top it off he is a great bloke. Thank you and I will definitely be using you again - no doubt (though ultimately I'm hoping for better luck now)"
James Murday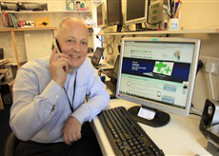 Please Note:
Data recovery is not covered as part of this package.
It is the customer's responsibility to assure that their data is regularly backed up.
Systems older than 3 years are accepted subject to assessment.
Apple computers are subject to a 30% loading on standard packages.
Each package is limited to the designated computer denoted by make, model &amp serial number registered at time of purchase.
Transfer of package is subject to agreement.
PC Clinic are not authorised to install unlicensed software or upgrades.
We can only work on computers using English as the system language.
Please also note PC Clinic's general terms & conditions.