If you have a Dell computer either laptop or desktop this blog has been created to help you  in recovering or repairing your Dell system. For troubleshooting on a Dell system you should follow the steps below.The first way to use Dell's inbuilt testing and troubleshooting facilities. If you cant boot to the utility then it means there is no utility partition on the hard drive and need to use Dell Resource CD for that model.
These Resource disk can be obtained directly  from Dell. Just call Dell customer support. Or they can be downloaded from online as iso images. You will need access to another computer with dvd burning capacity for this option. Alternatively The other method is to buy them from ebay .
The resource disks include various testing features that are normally pre-installed on the motherboards or on a hard disk drive in separate partition. To see if yours already has this partition you will need to restart the computer and press F12 repeatedly after pressing the power switch.
Method
If you do not have a recovery partition then obtain as described above and place the Resource CD ( it can be called Driver and Utility CD) into the computers DVD drive. Restart the computer and when Dell logo appears press F12 repeatedly.
Highlight option CD/DVD.
Select Custom Test.
Dell desktops have diagnostic lights LED. This may help us diagnose the fault and give us a guide about where to look.
Faulty memory
Faulty CPU
Faulty motherboard
Faulty graphics card
Alternative Tools
If the Dell tools do not show any fault, then we should use traditional diagnostic tools like bootable CDs. If yours is a desktop open it and check the interior. Is it clean and check for hot components are they overheating. To test this make sure the power cable has been removed and then lightly touch your fingers across the motherboard and test for high heat.
Check the biggest chips that are next to the CPU as well. There is no high voltage circulating motherboard but for safety keep one hand in the pocket and use just one hand to check the temperature.
Sometimes Dell on desktop PCs uses hard drives in a RAID array. It is worth noting here  that if your system is RAIDthen such tools as UBCD and some data recovery software will not  be able to read or understand the data structure.
Some of the Dell desktops have a problem with the  power supply units or PSU. We have had a few Dells that had been switching off PSUs or suffering from voltage spikes coming of the + 5 and +12V rails. In thecase one hard drive was damaged. To identify this you will need specialist tools such as an oscilloscope. It may be better at this point to have your system tested by a professional company such as PC Clinic.
Caution and warnings
At this point it is worth mentioning hard drive temperature. Sometimes the system for no reason can show a warning that it cant read data or something like that. There is only two places to look in this case is the RAM and the hard drive. Check the case of the HDD and see if it's running hot to the touch. You can also test with a number of utility tools such as Speccy. If the temp is running at over 50°C then you may need to save your data and replace the HDD and operating system. The RAM  can create starange and interesting behaviour from the system for no apparent reason. Such things as hanging with no response from the mouse or freezing completely. This happens when the load on the RAM modules reaches a certain level and the memory can no longer respond thus causing the system to freeze. A restart will cure the problem temporarily but it will not cure the fault. Only a full memory diagnostic test can help identify this issue.
If the Dell diagnostic tools can't help and nothing seem to be wrong with the hardware such as overheating or blown capacitors etc, then it's time to take use other diagnostic tools.
Other Tools
First of all  use Memtest. It will stress the system to such level that if something is wrong somewhere it will show up or the system will even switch off. This happened many times if something is overheating Memtest just makes it turn off. For example we have had a faulty CPU and the system was crashing randomly. After couple of minutes on Memtest it crashed again and we noticed a hot CPU. After measuring CPU Vcore resistance which was below 4 Ohms it was clear where the fault lay.
If your system still boots to Windows desktop the same stress test effect can be achieved with a diagnostic tool called OCCT also.
For hard drive diagnostics utility other than Dell use it is worth checking out GSmartControl. First impression can be confusing and time should be taken to familiarise yourself with the nature of the reports and their meanings. It is we think though one of the  best utility applications available to date.
If you fancy trying out some self diagnostics and repair on your Dell computer these tips and tools should help you. This is not a definitive guide or guarantee of success but rather an insight into what we do for you when your system is in our lab.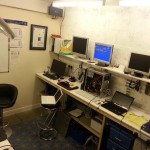 Have your say about what you just read! Leave us a comment  below. If you'd like us to fix it for you just call us on 01902 847 478.